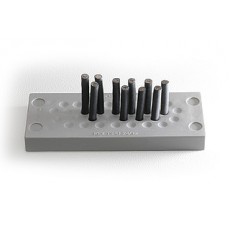 With the universal gland plate KEL-DPU by icotek standard cables, wires, optical fibres or pneumatic hoses can be quickly and safely routed into electrical enclosures, housings or machines and additionally strain relieved.
High stability, tightness and strain relief

Advantages & benefits
Very high stability

High strain relief due to the special design of the cable sleeves

Screw or plug-in mounting possible

Very high cable density (compared to cable glands)

Simple and quick assembly with cables

Flat surfaces - no dirt-collecting recesses (hygienic design)

Resistant against ECOLAB detergents

Double cable sealing with IP65/IP66/IP67/IP68 and UL type 12 / 4X

The gland KEL-DPU is especially characterised by its very robust hard frame made of polypropylene which is completely moulded with elastomer. This results in a high ingress protection and stability as well as in a high strain relief level of the routed cables.

Cables passing the membranes at the gland plate front are sealed a second time through conical cable sleeves at the back of the KEL-DPU. This unique grommet design provides sealing rates IP65 / IP66 / IP67 / IP68 (certified acc. to EN 60529).

In addition, the gland plate KEL-DPU meets the high requirements of protection classes UL type 12 / 4X (certified acc. to UL 50E), confirming its excellent performance in harsh environments.
Hygienic design – flat surfaces, detergent resistant
In food and packing industries hygiene is very important. Dirt-collecting recesses on machines and plants have to be avoided.
The flat and completely sealed surface of the KEL-DPU is perfect for these requirements. Dirt or dust can hardly accumulate on the gland plate and it is easy to clean. Furthermore, the KEL-DPU is certified for ECOLAB detergent resistance.